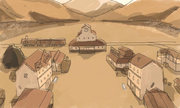 Dustop is a location in Crystal Story II. It is connected to Orange Pass to the north, Desert to the south, Zombie Cave to the east, and Mine to the west.
Heal Potion I - 50 G
Heal Potion II - 200 G
Cure Potion - 100 G
Revive - 500 G
Heatblade I - 2000 G
Runeblade I - 2000 G
Kris I - 2000 G
Dirk I - 2000 G
Repair Pistol I - 2000 G
Plate I - 1000 G
Gauntlets I - 1000 G
Amulet I - 1000 G
Boots I - 1000 G
See also: Quests
I am the night! (X)
Mummy King Alive (X)
Zombie Offense (X)
Mummy Defense
Mummy Defense II
Magnet (Deluxe Version Only)
Test of Might (Deluxe Version Only)
Lake Trouble (available in Dustop only in Flash Version)
Although the Sheriff claims that Dustop gets lots of scrap metal from the Mine, no scrap metal can be bought in Dustop.
Community content is available under
CC-BY-SA
unless otherwise noted.